Arranging some more transparency with our vendors inventory, ensuring our customers data is up-to-date.
Vendors Search
1.) We have created a webpage where please create the following search. (This page will be accessible by wholesale/resellers customers only. This option is already available at our store and I will add it.)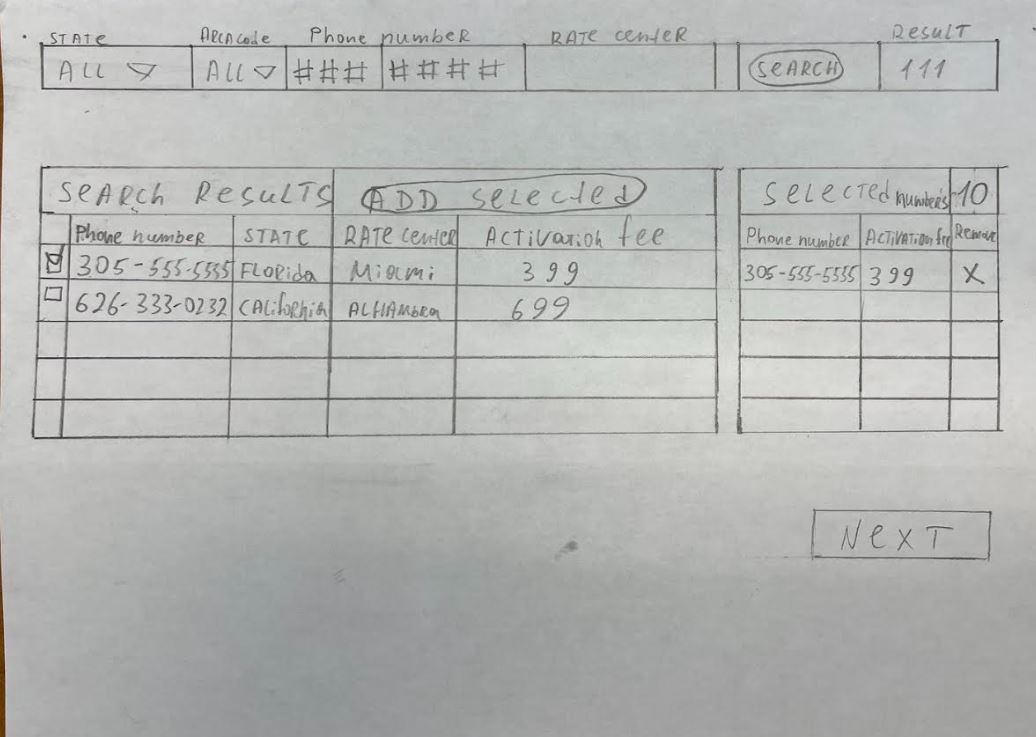 2.) It will be a different search than we currently have on our website. (Additional)
3.) Wholesale customers will be able to search numbers that currently available in our vendors' inventory: Peerless Network & Inteliquent.
4.) Please note that when the API call is going to our vendor, they should see only NanoTelecom who is requesting the answer, NOT the Excellent Numbers.
5.) No need to divide by pages. The results must be scrollable.
6.) Limit the results ~ max is 1000 numbers.
7.) Create settings in admin so admin can make changes. Like:
a.) Limit total numbers request. Like 1000, 5000 etc.
b.) Check connectivity
c.) See how many total phone numbers vendors have.
d.) Which vendor the API will be sent. (I can choose all or 1 by 1.
d.) Area code or state are mandatory for search or not.
8.) Activation fees won't be via API, as our vendors don't have it. You can use our engine which is on the page "how much is my number worth" to show the fees.
9.) Check out will be different than we have. They can only pay for these numbers using their store credit.
10.) Functional:
a.) When a customer clicks at the search button, the API call is gong to our vendors and return the results. If there are any errors, then it should be letting the customer know. If it takes too long, there should be a timeout. (Admin should get all error notifications.)
b.) Vendors are working in different ways. Let's say when we send API to Onvoy, they send results but the numbers in the results could be taken by others at any seconds and they become unavailable. Peerless reserve (locked) the numbers they send via API so nobody can take it before our customer decide to buy or not. So please read their API documentation carefully and implement into our website correctly.
c.) Once customer clicked on the "add selected numbers" the API should go to our vendors to reserve these numbers. (Not purchase, just reserve.)
Once our system charged the customer using their store credit, then the final API should be sent to our vendors to purchase the numbers.
Note: if you have any better scenario, please let us know. This is the best we came up as for now.
Supportive Documentations:  Peerless & Inteliguent
Numbers Price Addon
Thank you for developing numbers price settings for EN project however we found that there are some rules and exceptions that we pre set in it may conflict with each other or simply unable to resolve the target we plan for some specific numbers. This is why this new task addon originated: – please create an additional filed for site admin to create a rule for entire 10 digits number including its area code.
So allow admit to create a rule for a individual phone number and once it has been picked the price displays exact price (including, message) for such phone number set.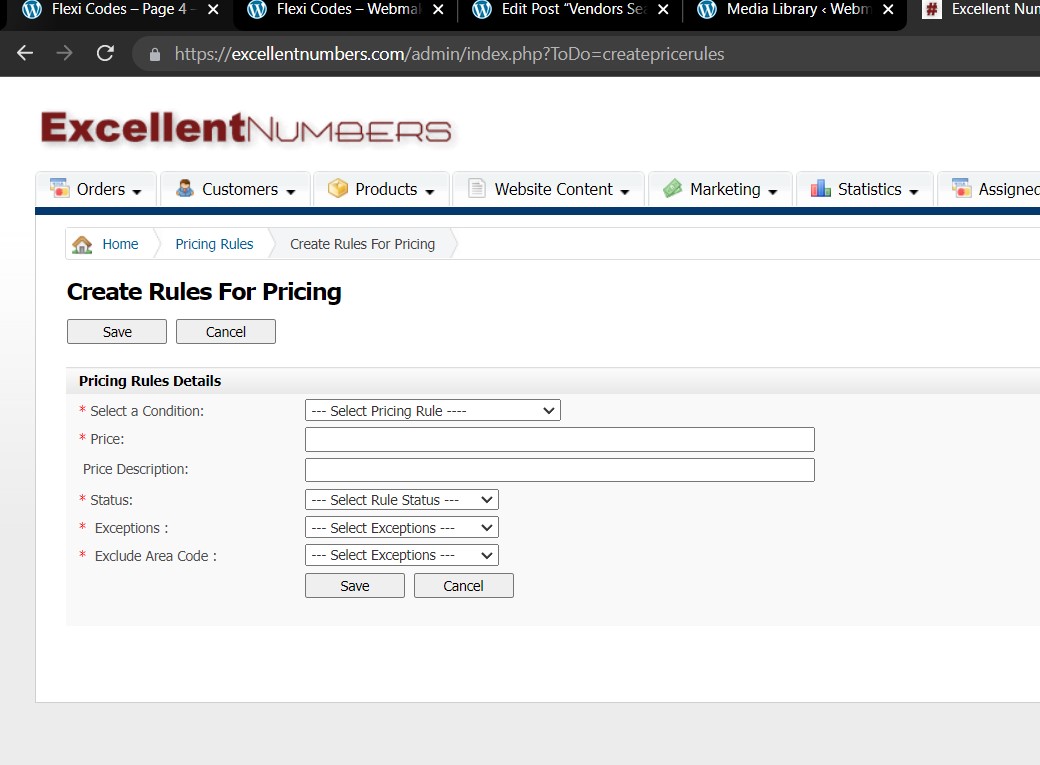 Client ID 
When admin activates numbers it works good and numbers being activated on Telinta via API to Excellent Numbers client. However if the client is not in Telinta system does not activate such numbers due to missing client ID parameter see screen shot below.
In this task please add the following exception: – If client is not in Telinta by default let the numbers being activated to Telinta's Excellent Numbers Client ID. Please ensure that site admin able to activate all the numbers from EN backend for all the clients (including those that are not in Telinta) to Excellent Numbers Client ID by default.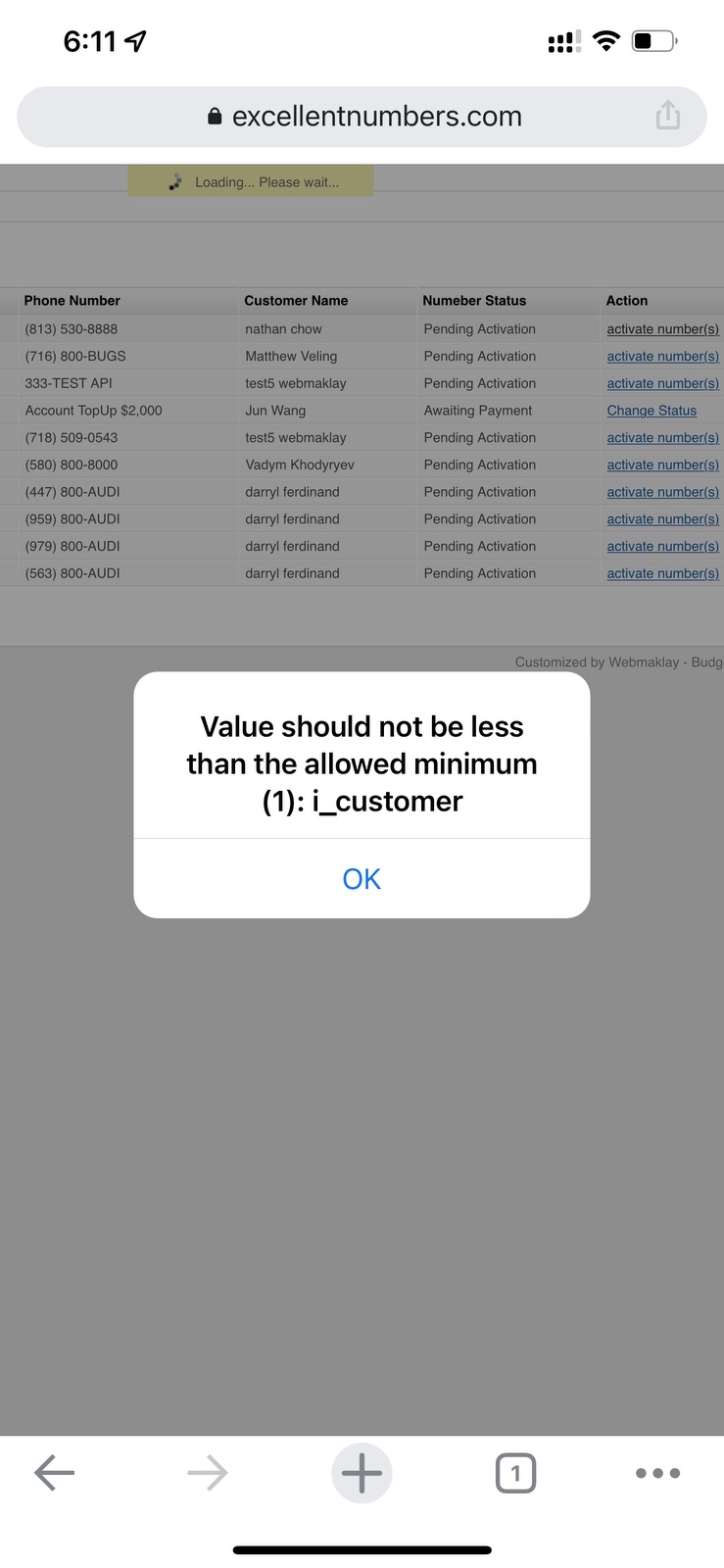 Notes: please make sure all work must be done on both desktop site and mobile. Also please test all tasks before reporting completion.
Good luck !